Ballet Classes for Adults
Learn Ballet from a Professional Ballerina in-person, live on Zoom or On-Demand. 
Ballet Online and On-Demand
Ballet Barre Online
Monthly and drop-in options. Free Trials.
Join me Tuesdays and Thursdays live on Zoom or on-demand (class recording).  Easy-to-follow open level ballet barre includes short warm up and stretch. Students can have their camera on or off.  Free Trials.
START TIMES BY TIME ZONE
9.30am AST Atlantic Time
(Atlantic Canada), UTC/GMT-3 (Argentina)
8.30am EST Eastern Time
(Ontario, Quebec, NY), UTC/GMT-4 (Brazil)
1.30pm UK
14.30pm Europe 
On-Demand
Ballet Courses for Adult Beginners
Ballet Basics On-Demand
An introduction to ballet for absolute beginner adults. Contains sixteen, 30 minute-long lessons. 
Ballet Basics Course from Flamenco and Ballet Maria Osende on Vimeo.
SKILL: No Experience Necessary COURSE CONTENT: 16 classes INTENSITY: Mild to Moderate CLASS TYPE: Recorded Zoom Classes Throughout the course you will learn:
5 feet and 5 arm positions
Correct body, hip, foot and arm placement
How to engage your leg turn out (en dehors)
CONCEPTS
Plie, tendus, jetés, fondu, développé, relève, pas de vals, pas de beurree, cou-de-pied, port de bras, simple port de bras
Contains sixteen, 30 minute-long lessons. 
Beginner Ballet 1 Course from Flamenco and Ballet Maria Osende on Vimeo.
SKILL: Basic Ballet Knowledge (ballet posture, arm and feet positions, and basic concepts such as plié, tendu, jeté, pas de vals, port de bras)
COURSE CONTENT: 15 classes of 30 minutes each
INTENSITY: Mild to moderate
CLASS TYPE: Recorded Zoom Classes

On Demand Course for Adult beginner ballet dance students interested in focused technique, correct execution and detail.

 
UPCOMING SUMMER  WORKHOPS
Ballet Beginner Plus 4-Day Summer Workshop
July 24-27, 7.15-8.30pm
Ballet  Conditioning 3-Day Summer Workshop
Open Level barre, stretch, strength
August 14-16 6.15-7.30pm
Ballet Open Level 3-Day Summer Workshop
August 21-23 6-7.30pm
UPCOMING FALL  
Ballet Open Level – Sundays 3-4.30pm
Ballet Beginner 3 Level – Sundays 4.30-6pm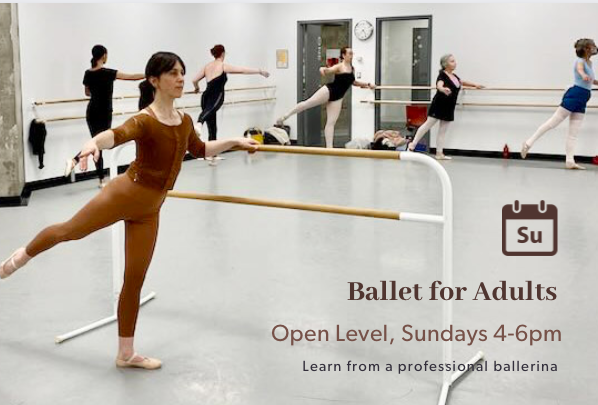 Ballet Open Level Class
Sundays, 4-6pm
at Halifax Dance weekly until June 11
My open level adult class is ideal for students taking ballet recreationally once or twice a week.
This 2 hour long class will allow us to work thoroughly and when needed, split the class or combinations to adapt to those dancers who are looking for a challenge, and to those who are still learning new steps. Below a combination from this class to give you an idea of the level.