Coiling wrists, swirling skirts, fluid arms and percussive footwork are hallmarks of flamenco dance— a mesmerizing, soul enriching dance form that parallels the beautiful melodies and intricate rhythms of flamenco music. It is danced individually by men and women alike and can be seen on dance stages across the world, as well as private parties, small venues (tablaos) and informal gatherings in Southern Spain.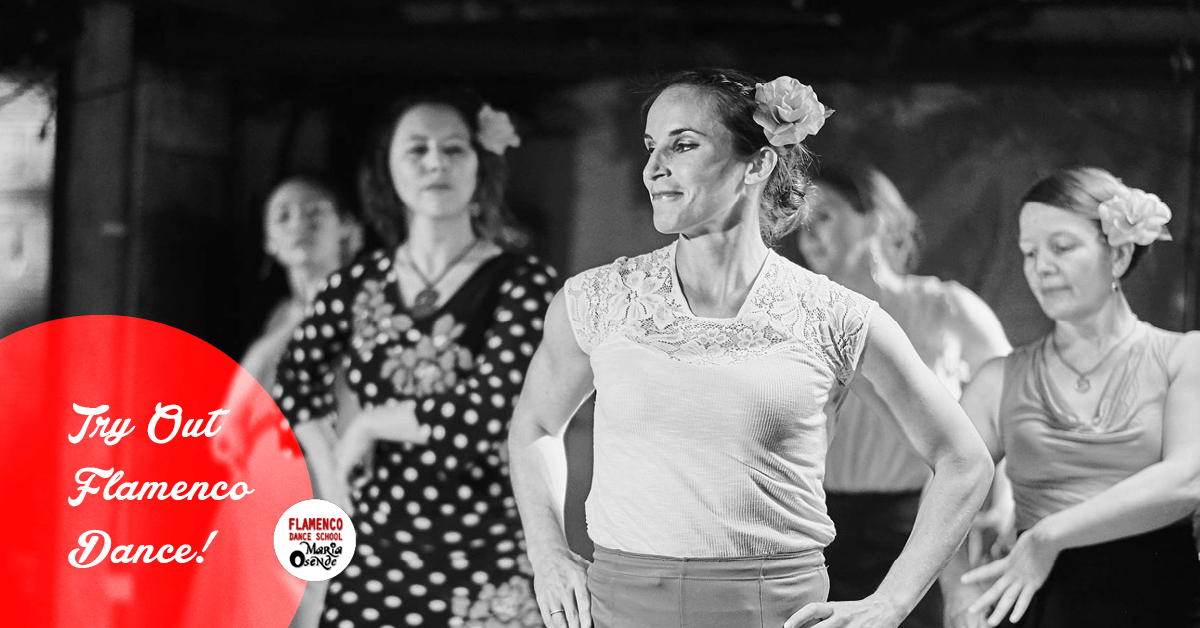 Current and upcoming entry Level Courses (Level 1)
Level 1 – Entry Level Courses
Learning a new dance form engages your mind and body,  it's a wonderful outlet for personal expression.
Basic steps and sequences will be introduced and set to powerful and upbeat flamenco rhythms.  There are many layers to Flamenco dance. Skills are developed over time. Through weeks practise and repetition the steps, moves and sequences will become more and more familiar and you will develop  confidence in a fun and encouraging environment! 
Who is this level for?
This weekly Level 1 (entry level) course is for students with:
no previous flamenco dance experience;

students with under 6-12 months of flamenco dance class training;
higher level students wanting to review the basics and add more practise to their weekly class schedule
students reconnecting after a break.
Course Content:
arm and hand position, movement and drills

basic footwork steps and drills

basic flamenco steps "marcajes"

clapping and flamenco "compas" (rhythm)

basic flamenco turn "sevillanas turn"

choreography to integrate and practise all the above
Flamenco shoes recommend but not required for those starting.
Read more on our levels here
All You Need to Know About Flamenco Dance Classes
We get it:  attending a dance class, let it be online and specially in-person for the first time can be terrifying!  "Will it be too hard for me? Will I be the only one not knowing or getting a step? What kind of people attend dance classes anyway? What do they wear?"
All these thoughts cross our minds when we go somewhere new, so let us tell you a little bit about what our entry level dance classes are like.
Who comes to our flamenco classes?
Our students come from all paths of life, ages and backgrounds, specially now with the addition of online classes. The common denominator is a curiosity for flamenco along with finding themselves at a time in their lives were they want to treat themselves and learn something new.  They are looking to stay active through a creative, artistic activity, that challenges their body and mind, and where they can also get a chance to express themselves.  Most of our students are women,  BUT we would LOVE to have more gender diversity in our classes!
Through your classes, you will meet like-minded people. Camaraderie and great friendships develop through shared experiences. 
Learning flamenco will open up an entire new world for you. Remember you can always stop if you find its not for you, within the first three weeks of classes, you can get a refund for the remaining of the course, should you find flamenco its not for you. There is much joy in meeting great people you can share the experiences with, even online at this time!
How hard is it on the body? Do I need to be in shape?
Flamenco at an entry level, is a low impact exercise suitable for all levels of fitness and ages. As with any other dance style, sport or exercise routine, it all depends on how far you want to go. Most of our students dance recreationally, however if you are interested in becoming a professional flamenco dancer, then you will need to practise more hours and take more care of your body.  See below!
To complete Level 1, Entry Level or Absolute Beginner Level takes approximately 1-2 years of attending 1 hour a week.
A Note on Flamenco Footwork
Flamenco footwork or "zapateado" can be intimidating. Landing in a class where everyone seems to follow the steps and you don't is not a fun experience.  The thing is though, that footwork is foot percussion and you will be surprised realize how quickly footwork and musicality skills develop with practise and repetition, and of course, the right technique.
Progress and moving on to the next Level
Generally speaking, students have completed the Entry Level (also called Level 1 and Absolute Beginner)  when they have attended, two technique sessions (between 14-16 weeks) once a week and they have learned the full Sevillanas dance (January through June) once a week.
Having said that, progress will vary vary depending on many factors: previous dance experience, your ability to attend regularly, the number of classes you attend per week and the time you dedicate to review or practise on your own. 
Some students like to stay longer in the Level 1 or take it as an additional class once they move up a level.  We pride ourselves on offering personalized attention to our students, we are a small school and understand that everyone learns differently.  Please let your teacher know how the class feels for you. It's important to let us know if the class is going too fast or too slowly overall.  As teachers we are there for you, so we try to cater the class to the students attending, that is YOU!