About the School
Vision
Adults embrace and integrate dance as a joyful part of their lives. 
Mission
To create a community of adults who share their joy of dance; to enhance their self-expression, overall well-being and appreciation of dance in their lives and as a performing art.
Welcome to Flamenco and Ballet Dance School Maria Osende!
We welcome students from all walks of life with their own unique reasons to dance. No matter your age, size, background or style, we are certain that you will feel relaxed and motivated as you learn. We offer flamenco and ballet dance classes at all levels online and in-person in Halifax, Nova Scotia, Canada.  
We provide a framework for efficient learning, so you can progress at your own pace. With clear instruction and honest encouragement, we want to motivate you to surpass your own expectations. Step-by-step, move-by-move we will support you without ever feeling out of your depth or incurring injury.
Camaraderie and a welcoming atmosphere are guaranteed in our school, let it be online or in-person. Class sizes vary between 8-16 students and in class you will find mostly if not only, women. Men are so welcome!  There are jsut not as many men interested in dance as there are women.
The school offers primarily adult recreational classes requiring a commitment of just one or two classes a week, however you are welcome to increase the number of classes you attend a week. We also offer  professional development and performance opportunities for those students who have flamenco dance a core part of their lives. If you are new to flamenco, you might find some answers in Maria's article "Dare to Dance" or under our FAQ. We are a community of people who love to dance and you will develop friendships and unique connections . We welcome anyone who is interested in trying it out and joining us!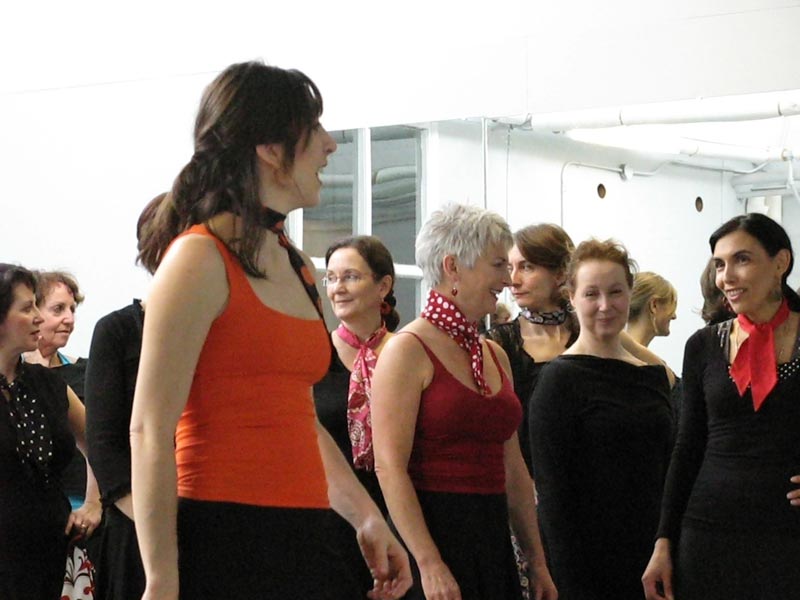 Performance Opportunities
The school's performance group "For the love of flamenco" performs at charity and community events. We also host an student  recital. The school provides performance opportunities for those dancers at a pre-professional and professional level ready to move on to the next level.  Many of our professional dancers performing with the Maria Osende Flamenco Co. have come from the school. We also have professional teachers, dancers and musicians for hire whatever the occasion. 
Maria Osende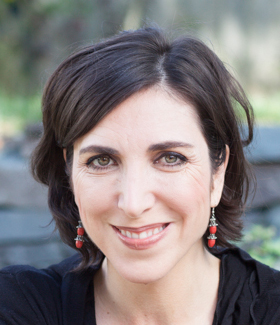 Maria Osende is the founder and artistic director of the school with 17 years of experience teaching flamenco and ballet, choreographing and producing shows ranging from school performances to professional productions, from intimate to large venues, from flash mobs for non-dancers to choreographies for professional dance companies in styles ranging from traditional flamenco, to fusion with other dance styles and ballet.
Maria is an award-winning and highly accomplished professional dancer, teacher, choreographer, entrepreneur  and event producer. Before moving to Canada, Maria danced professionally and toured across Europeand Spain for over a decade as a soloist with the "Ballet Nacional de España Clasico" and the "Berlin Ballet" in Germany. Maria studied ballet and flamenco in her home town Madrid at the "Centro de Arte Flamenco Amor de Dios" and with Julia Estevez and Luis Fuente. IN her teens, Maria attended the prestigious "School of American Ballet" in New York thanks to a Fulbright scholarship. Her rich, diverse and extensive background and expertise in dance as well as her knowledge of the national and international dance scene, give her a unique vision of dance as a dancer, teacher, choreographer and mentor.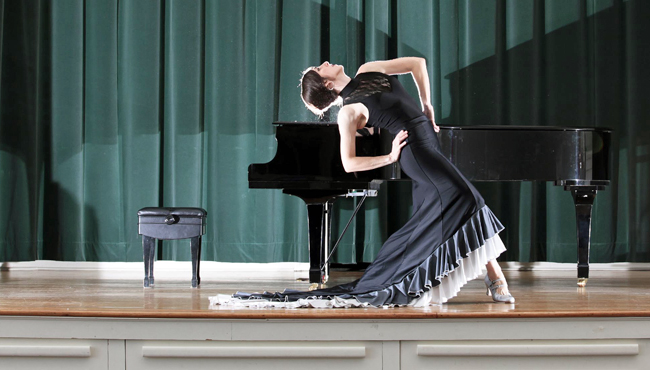 Besides teaching in Halifax and online, Maria has taught at several dance schools across the province and nationally, as well as given workshops and letcutres at various universities in Halifax: Dalhousie, Nova Scotia Community College, Mount Saint Vincent and Nova Scotia College of Art and Design. 
Maria has created and produced and toured with several shows with her company:  Maria Osende Flamenco Company. She was the artistic director of the Atlantic Flamenco Festival, and in 2017 and 2019 she produced a large-scale multicultural dance festival in partnership with the municipality and in frame of Canada Day: the FUSE dance festival, in other words, she has been the main motor behind flamenco in our city and a huge promoter of dance
In the fall of 2015 Maria received the "Established Artist Recognition Award" from Arts Nova Scotia and the Creative Nova Scotia Leadership Council. In 2018 Maria received a "Best of Halifax Excellence Award" in the category of "Best Dancer".