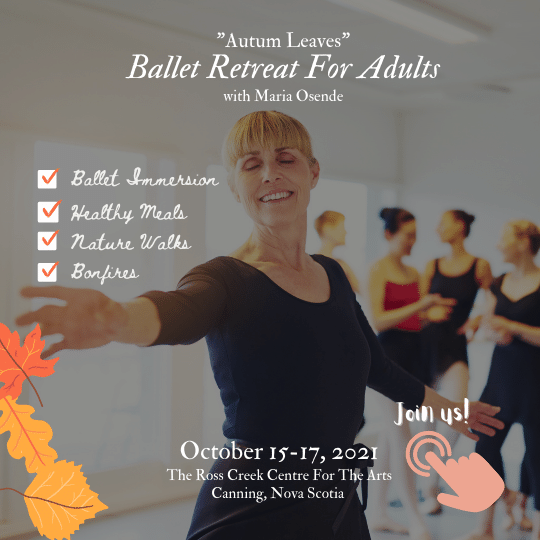 Autumn Leaves Ballet Retreat with Maria Osende
October 15-17, 2021
The Ross Creek Centre for the Arts, Canning, Nova Scotia, Canada
Enjoy the opportunity to immerse yourself into the world of ballet, enjoy the stunning colours of the leaves this time of the year, wholesome homemade meals using local ingredients,  one-on-one ballet sessions, a ballet movie, a bonfire, meet ballet lovers and hopefully create beautiful memories. Ballet class, stretching, one-on-one sessions, adapted classical ballet repertoire  and more are part of this exciting weekend. Join us on the North Mountain and stay at Ross Creek's newly renovated farmhouse or glamping cabins for an unforgettable weekend of dance and community!
Information on level and fitness
This workshop is designed for adult ballet dancers and we expect a diverse group in age ranging roughly between 25 to 70+. We understand you will all have different levels of skills and fitness, therefore you are all welcome to participate to the degree that feels comfortable for you.
In terms of the skill level, ideally you are able to follow and execute the basic barre exercises and can do some centre exercises. You have learned some basic turns and jumps and you practise ballet maybe once a week for personal enjoyment. Maybe you started a few years ago, or recently, or maybe you danced many years ago quite seriously, we welcome you all and we promise to provide a caring and safe environment in which each of you feels comfortable to only undertaking the activities that are suitable for your own physical fitness.
Here is a summary of the planned Retreat Schedule:
Friday, October 15, 2021
5 pm Arrival and checking in
5.30-6.30pm Meet and greet
6.30pm Dinner
7.30pm Tour of facilities, etc.
Evening Ballet  Movie night, social
Saturday October 16
7.30-8.30 Breakfast
8.30-9am Walk on Ross Creek trails
9.00-9:30 Gentle Ballet-prep warm up
9:30 -11:00 Ballet class
11.00 Mid-morning snack
11:15-12:30pm Ballet Repertoire: Les Sylphides*
12:30-1:15pm Lunch
1.15-2.30pm Ballet Repertoire
2.30-3.30pm Stretch, yoga, relaxation, foot massage
3.30-4.30pm Coffee, tea, snacks  , walk  or free time
4.30-6.15pm Some of these can overlap. Alignment one-on-one clinic
(15 minute individual time slots with Maria and Marel) followed by
Q&A ballet chat
6:30pm Dinner
7:30pm Social time & bonfire
Sunday, October 17
7.30-8.30am Breakfast
8.30-9am Morning walk on Ross Creek trails (optional, weather  permitting)
9.00-9:30 Gentle Ballet-prep warm up
9:30 -11:00 Ballet class
11.00 Mid-morning snack
11:15-12:30 Ballet repertoire
12:30-1:30 Lunch
1.30-3pm Yamuna Body-Rolling Workshop with Nona Fuller
3pm Coffee, tea, snacks
3.30-4pm packing up
4pm Social or final group walk before dinner (weather permitted, optional)
4.30pm Early dinner  departure
*This is a sample itinerary and may fluctuate/change based on weather conditions and group interests. Level of involvement is optional as described above.
Ballet Repertoire
During our "Autumn Leaves" ballet retreat, we will study, explore, adapt and learn sections from Les Sylphides, one of the most iconic and beautiful romantic ballets ever made. This ballet continues to be performed around the world today.
"Les Sylphides"  is a short, non-narrative romantic "ballet blanc" to music by Frédéric Chopin premiered in 1907 at the Mariinsky by Les Ballets Russes in Saint Petersburg, Russia. Originally called "Chopiniana" it was later renamed to "Les Sylphides" when it premiered in Paris in 1909. Choreographed by Mikhail Fokine it is frequently cited as the first ballet to be simply about mood and dance.  Les Sylphides has no plot but instead consists of several white-clad sylphs[1] (air spirits) dancing in the moonlight with the "poet" or "young man" dressed in white tights and a black tunic. 
The "Romantic Ballets" belong to the Romantic Era which was an artistic, literary, musical, and intellectual movement that originated in Europe towards the end of the 18th century. Romanticism was characterized by its emphasis on emotion and individualism as well as glorification of the past and nature.
Romanticism marked the rise of the ballerina as a central part of ballet, where previously men had dominated performances. The movement style of the Romantic ballerinas was characterized by soft, rounded arms and a forward tilt in the upper body. This gave the woman a flowery, willowy look.  During this era, the development of pointe work and point shoes, although still at a fairly basic stage, profoundly affected people's perception of the ballerina. Many lithographs of the period show her virtually floating, poised only on the tip of a toe. This idea of weightlessness was capitalized on in ballets such as this one, as well as  La Sylphide and Giselle.
Those of you who wish to get in the mood for our repertoire sessions, are encouraged to bring pink tights and the closest you can find to a Romantic tutu, which is a soft and bell-shaped tutu made out of 2 or more layers of tul reaching the calf or anklewhite.
[1] A sylph (also called sylphid) is an air spirit stemming from the 16th-century works of Swiss philosopher and theologian Paracelsus, who describes sylphs as (invisible) beings of the air. A significant number of subsequent literary and occult works have been inspired by Paracelsus's concept of the "elementals".  An elemental is a mythic being that is described in occult and alchemical works from around the time of the European Renaissance, and particularly elaborated in the 16th century works of Paracelsus. According to Paracelsus and his subsequent followers, there are four categories of elementals, which are gnomes, undines, sylphs, and salamanders.These correspond to the four classical elements of antiquity: earth, water, air, and fire, respectively., These elements were proposed to explain the nature and complexity of all matter in terms of simpler substances. Ancient cultures in Greece, Tibet, and India had similar lists. 
ABOUT THE ARTISTS/INSTRUCTORS
Maria Osende


Maria Osende is an award-winning  dancer, choreographer, teacher, artistic director, and producer based in Halifax, Nova Scotia. Renown for her artistry, her impeccable technique, her creativity, generosity, humour and passion for teaching, Osende is recognized as leading figure in the Canadian dance milieu. 
Her passion for dance splits between ballet, which was the main focus of her professional career in Europe, and flamenco – an art form which she embraced after her ballet career, and which strongly resonates with her Spanish background.  
Maria teaches both dance forms at her school in Halifax as well as online and as a guest teacher. She is super excited to run this special retreat for the first time at the Ross Creek Centre for the Arts, a place very close to her heart, as here is where she first performed in Canada back in 2004, when the centre opened. 
DANCE Education
Studied ballet in Madrid with Luis Fuente, Zelma Bustillo, Julia Estevez, Jose Granero. 
Highly commended at the Real Conservatorio de Danza de Madrid, a six-year diploma program. 
Fulbright scholarship: attended intermediate an adanced level programs at School of American Ballet in New York, USA (2 years).
Studied flamenco at the Centro de Arte Flamenco Amor de Dios in Madrid, Spain.
Professional DANCE
Career 
Maria danced professionally for two years in her late teens with  the Ballet National de España, now known as the "Compañia Nacional de Danza" in her hometown, Madrid, Spain under the Artistic direction of Maria de Avila and then Maya Plisetskaya. She then moved to Berlin, Germany, where she danced with the Berlin Ballet, soon becoming a soloist under the artistic direction of Gert Reinholm and then, Peter Schauffus. The company's repertoire ranged from classical ballet to contemporary dance. Maria participated in the creation of several new works both in classical, neoclassical and contemporary dance. Amongst others are choreographers G. Balanchine, R. Nureyev, Maurice Béjart, Bill T. Jones, Meg Stuart, Lucinda Childs, José Limón, Hans van Manen, Jiri Kilyan, Nacho Duato and Bill T Jones.
Since 2004 Maria has her own flamenco dance company in Halifax, they produce shows that have toured across Canada. Maria also participates in solo apperances and collaborations.
Teaching 
Maria started teaching in 2004 and since has taught ballet and flamenco at various schools in Halifax and New Brunswick, such as the Maritime Conservatory of the Performing Arts, Halifax Dance, Maritime Dance Academy, Imperial Theatre Summer School of New Brunswick, Dans Encorps NB, École L'Odyssée, NB, Rosario Flamenco (Vancouver), and at the Centro Profesional de Danza (Madrid). She has also given lectures on flamenco and the creativity process at Dalhousie University, Saint Mary's University, Nova Scotia Community College and Nova Scotia College of Arts and Design. 
She runs her own dance school "Flamenco and Ballet Dance School Maria Osende" in Halifax since 2005, focused on adult students. 
For more information please visit https://FlamencoSchool.ca
Choreography
Choreography is undoubtedly one of her strengths. She has created several works and productions since 2007 independently and for the Maria Osende Flamenco Co. (MariaOsende.com), as well as various solo and group pieces for ballet and flamenco dancers in frame of recitals and showcases, explorations in dance-theatre and dance fusion. Maria enjoys adapting ballet classics for adult students. She has also been commissioned to create contemporary dance works with "Danza Imposible", Madrid, Spain and the "Halifax Dance Young Company".
Marel Eager – One-on-One Ballet Sessions
After obtaining a BA in Dance from Butler University, Indianapolis in 1973, Marel Eager danced with the Butler Ballet and the Evanston Concert Ballet. Marel began her teaching career at the School of the Minnesota Dance Theatre in 1977 and has taught ballet, pointe and character dance at Halifax Dance since 1980. She is an Associate with the Society of Russian Ballet and
examined students annually in the Vaganova technique from 1985-2016. Along with her teaching, Marel served Halifax Dance in many and various administrative and artistic positions. She was one of the founding faculty members of Dance Nova Scotia's (DANS) Summer Dance Camp and has also served four years as a member of the DANS Board of
Directors. She has received the DANS Recognition of Service Award and the Halifax Dance Award of Distinction.
Marel's love is teaching ballet to beginning students of all ages – sending them on to discover
the many joys of all forms of dance with a solid foundation in proper alignment and technique.
She has been using a kinesthetic approach to her teaching (based on the work of Irene Dowd)
since the early 1980's and has continued to expand her knowledge with participation in many
internationally recognized teacher training courses.​
​
Nonna Fuller – Body Rolling Workshop
​ Nonna Fuller is an experienced (25years+) certified Pilates and Yamuna Body Rolling instructor.
The foundation of her approach to movement focuses on mind-body awareness, skeletal alignment, core strength and directed breathing which leads to overall strength, mobility and body sustainability.Yamuna Body Rolling is a type of self massage which uses various sizes of inflatable balls to elongate muscles thus freeing restrictions and pain in all parts of the body. Based on anatomy, Yamuna Body Rolling releases muscles from their origin to insertion to create space in tight ares, realign bones/ joints to optimizing range of motion.
After a weekend of ballet workshops your body will thank you for treating it to a Yamuna Body Rolling session.